ARES is part of the Amateur Radio Relay League (ARRL) field organization. It is composed of licensed amateur radio operators who have registered their equipment and capabilities to volunteer for public service and emergency communications. You do not need to be a member of the ARRL to be a member of ARES.

ARES is a volunteer radio communications service organized to provide reliable primary or secondary communications links for government agencies and non-profit organizations during emergencies or public service events.

The mission of the Amateur Radio Emergency Service of Champaign County is to provide public service and emergency communications services for such agencies in Champaign County.

Public service/emergency communication is one of the foundations of amateur radio, and can be both fun and fulfilling.

ARES of Champaign County is incorporated as a 501c3 organization in the State of Illinois. Our "club" call sign is WA9RES. This call sign is used by our net control stations in both emergency and public service events.
Next Monthly Meeting
First Wednesdays
7:15 p.m.
Illinois Fire Service Institute
11 Gerty Drive, Champaign


See Training Page for NIMS training requirements!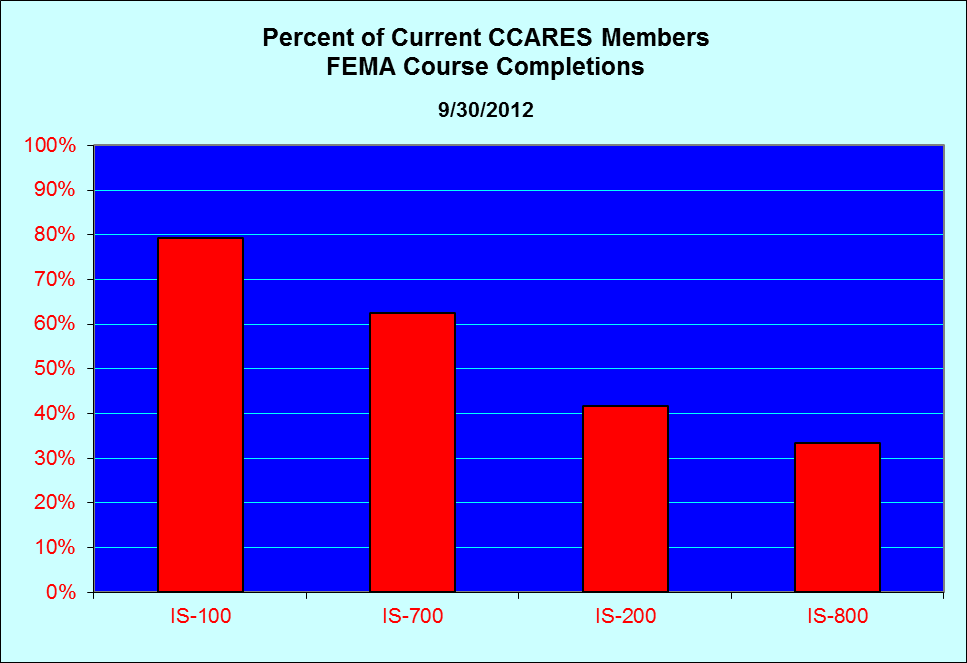 CCARES FEMA Course Completions
Click on image to see larger version