Date: March 13, 2006
From: Steve Hilberg
Subject: ARES of Champaign County QST - March 2006




This is a special edition of the monthly newsletter. There was not a regular March meeting due to NWS Storm Spotter Training being offered on the same night as our regular meeting.




NWS SPOTTER TRAINING


The following ARES members attended the March 1 session. If your call sign is not on this list and you attended, please let me know. Also, if you attend NWS training at another location, be sure to let me know when and where so I can make a note of that on your training record.

For specific dates, times, and locations check the NWS Lincoln web site at the following link: http://www.crh.noaa.gov/ilx/spotter2.php .



N9GPA KB9KAI AB9FJ KB9LCJ




KB9VFZ KC9DSS K9MLT K9SI




KC9DEQ KC9IKL KB9ZZQ WB9HFK




W9MOO KC9HND W9ADS KB9NBH




KD5EOQ KC9IHX N9XDH




In addition, all CCARES spotters must attend our "Spotter Preparation, Safety, and Communications" training which will be offered at our April 5 meeting. While the NWS training covers more on what to spot, our training covers how to spot, including a review of our severe weather net procedures.


GREAT RESPONSE FOR FIRST SEVERE WEATHER ACTIVATION
The first severe weather of the season occurred on Sunday, March 12, when most of Illinois was in a Moderate Risk for severe weather and central and northwestern Illinois were in a High risk. A tornado watch was issued about noon for much of Missouri and the western half of Illinois for a 10 hour period. The size and duration of the watch area was indicative of the potential seriousness of the situation. A number of supercell thunderstorms developed over Missouri and crossed the river into Illinois. The approach of one of the cells to Springfield prompted activation of the Champaign County severe weather net. This storm originated in southeastern Kansas and persisted over an incredibly long 10+ hours and 500+ miles. The storm struck the Springfield area between 8:00 and 8:30 p.m. Here is a radar image of the storm at 8:20 p.m. CST showing a characteristic "hook echo" near Springfield. The violet polygon is the tornado warning area.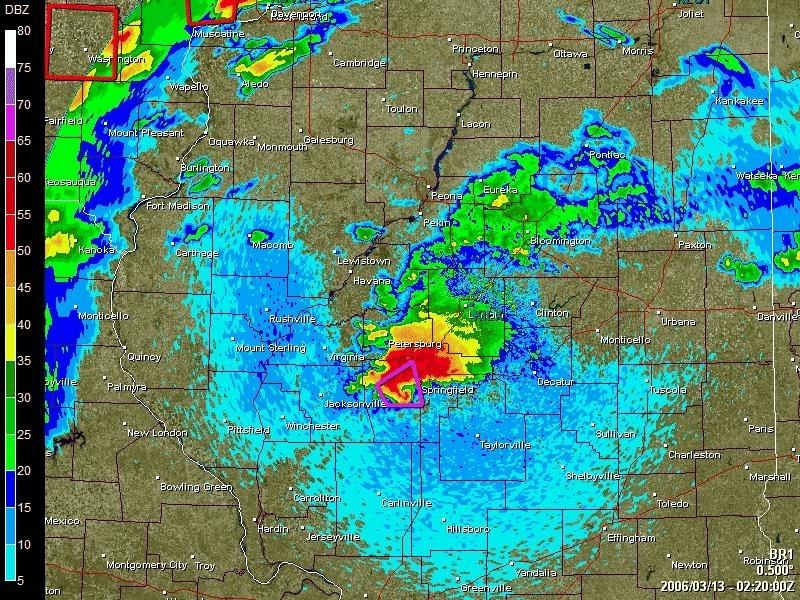 We had 13 spotters check in to the net. We ended up dispatching 4 teams of two spotters to cover the expected track of this storm. Many thanks to those who checked-in and remained on standby during this event. In most severe weather cases we would be dispatching additional spotters especially when there are numerous storms. However, the singular nature of this storm did not require any more teams in the field. Thanks to Dave Leininger, W9DML, for running a Resource Net while I was en route to the EOC.

A threat for severe weather remained high even after this storm moved off to the northeast into Indiana. The net went on standby until it was clear what the next round of storms would do. A number of ARES members agreed to standby into the early morning hours in case spotters were needed again. A second supercell prompted additional tornado warnings for the Springfield area around 1:00 a.m. , but that storm died soon after moving into eastern Sangamon County. Fortunately, the conditions favorable for tornadic storms became less favorable as the last line of storms moved into Illinois. I closed out the ARES standby about 3:00 a.m. when it appeared the last line of storms were weakening and headed for home.

Thanks again to everyone who checked in Sunday night.


MARCH NET CONTROL STATIONS


The weekly ARES net is held each Tuesday, 9:00 p.m., on the 444.100 repeater, CTSS 162.2. An updated net check-in list is now available on the web site.






March 7

K9MLT




March 14

KC9DSS




March 21

N9GPA




March 28

N9XDC





April 4

W9ADS




NEXT MEETING


The next regular meeting will be on Wednesday, April 5th, 7:00 p.m. at the Fire Service Institute where the training topic will be

"Spotter Preparation, Safety, and Communications" and review of our Severe Weather Net procedures.